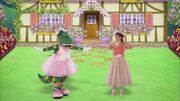 Mary, Mary Quite Contrary is a Nursery Rhyme from Sing a Song of Wiggles.
Song Credits
2008 Version
2016 Version
Musicians
2008 Version
2016 Version
Vocals: Lachlan Gillespie, Emma Watkins
Acoustic Guitar: Oliver Brian
Song Lyrics
Mary, Mary quite contrary
How does your garden grow?
With silver bells and cockle shells
And pretty maids all in a row.
Ad blocker interference detected!
Wikia is a free-to-use site that makes money from advertising. We have a modified experience for viewers using ad blockers

Wikia is not accessible if you've made further modifications. Remove the custom ad blocker rule(s) and the page will load as expected.