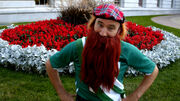 Michael Finnegan is a nursery rhyme about an old man named Michael Finnegan. Its first sung by The Wiggles in TV Series 7. Later in time, they sing it on Apples & Bananas. It was also shown as a sneak peek in the bonus features on the Go Santa Go! DVD and a song on Hot Potatoes! The Best of the Wiggles.
The song's melody is also very similar to The Wheels on the Bus.
The name Finnegan is an Irish surname, as Anthony as Michael Finnegan Irish dances.
Song Credits
Go Santa Go! Booklet
Apples & Bananas
The Wiggles Meet The Orchestra!
Dance Dance!
Lachy!
Wiggle Around Australia
Song Lyrics
There was an old man named Michael Finnegan
He had whiskers on his chin again
Along came the wind and blew them in again
Poor old Michael Finnegan
Begin again!
Trivia
Video
Gallery