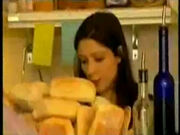 Miki Field is Anthony's wife. Her background is Greek-Australian. Her family owns Griffiths Coffee in Melbourne. She is a former dancer. She married to Anthony in May 2003. Her children are Lucia (b.2004), Maria (b.2005) and Antonio (b.2007). She is the daugter-in-law of Marie. She is the sister-in-law of John and Paul.
Video Appearances
Gallery
Ad blocker interference detected!
Wikia is a free-to-use site that makes money from advertising. We have a modified experience for viewers using ad blockers

Wikia is not accessible if you've made further modifications. Remove the custom ad blocker rule(s) and the page will load as expected.