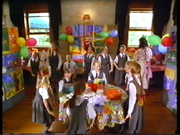 "Mrs. Bingles' Theme" is the theme of Mrs. Bingle and the children making decorations for Dorothy the Dinosaur's party. The song sounds similar to Jeff's Christmas Tune and Ding Dong Merrily on High from Wiggly Wiggly Christmas because they use the same instruments. It plays as background music in Wiggly TV Bloopers and for the intros to Here Come the Wiggles and Another Cuppa in It's a Wiggly, Wiggly World.
Song Credits
Musicians
The Wiggles Movie Version
Vocals - Carolyn Ferrie, Meaghan Woodhouse, Clare Field, Amy Dunbar, Emma Ryan, Bradley Benson, Sophie Hendrix, Madeleine Hurley, Catlin Mollica, Sian Ryan, Shanna Curry, Anthony Silvestrini, Cassandra Halloran
Bass - Murray Cook
Guitar: Anthony Field, Terry Murray
Drums - Peter (Fuji) Iacono
Organ - Jeff Fatt
Trumpet - Dominic Lindsay
Present Raper Sound Effect - Philm Sound
Balloon Sound Effect - Hanna Barbara Sound Library
The Wiggles Movie Soundtrack Version
Song Lyrics
Music: Part 1 Instrumental
Mrs. Bingle: (Vocalizing)
Music: Part 2 Instrumental
Mrs. Bingle: (Vocalizing)
Music: Part 3 Instrumental Outro
Trivia
This song is named after Mrs. Bingle herself.
Video Performances
Album Appearance
Ad blocker interference detected!
Wikia is a free-to-use site that makes money from advertising. We have a modified experience for viewers using ad blockers

Wikia is not accessible if you've made further modifications. Remove the custom ad blocker rule(s) and the page will load as expected.