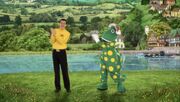 One, Two, Three, Four, Five is a nursery rhyme from Sing a Song of Wiggles and Apples and Bananas.
Song Credits
2008 Version
2014 Version
Music and Lyrics: Traditional
Arrangement: Anthony Field, Lachlan Gillespie, Simon Pryce, Emma Watkins
Producer: Anthony Field
Engineer and Mixer: Alex Keller
Recording Location: Hot Potato Studios
Publisher: Wiggly Tunes
Copyright: Universal Music Group
Musicians
2008 Version
2014 Version
Lyrics
One, two, three, four, five
Once I caught a fish alive
Six, seven, eight, nine, ten
Then I let him go again
Why did you let him go?
Because he bit my finger so
Which finger did he bite?
This little finger on my right
(Repeat)
Ad blocker interference detected!
Wikia is a free-to-use site that makes money from advertising. We have a modified experience for viewers using ad blockers

Wikia is not accessible if you've made further modifications. Remove the custom ad blocker rule(s) and the page will load as expected.