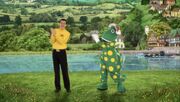 One, Two, Three, Four, Five is a nursery rhyme from Sing a Song of Wiggles and Apples and Bananas.
Song Credits
Sing a Song of Wiggles
Dorothy the Dinosaur's Rockin' Christmas
Apples and Bananas
Lyrics
One, two, three, four, five
Once I caught a fish alive
Six, seven, eight, nine, ten
Then I let him go again
Why did you let him go?
Because he bit my finger so
Which finger did he bite?
This little finger on my right
(Repeat)
Trivia
On Apples and Bananas, the song is largely titled as "One, Two, Three, Four, Five, Once I Caught a Fish Alive".
The Apples and Bananas version of the song was uploaded on The Wiggles' YouTube channel on December 7th 2017.
Video