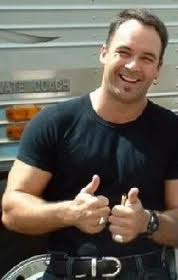 "Paul Paddick" (b. February 16, 1967) is an Australian actor and musician. He currently plays Captain Feathersword, having done the role since 1996.
Paul Paddick met Anthony in 1993. Field needed a hernia operation, so he asked Paul Paddick to temporarily take over for him; for that tour, he played the Blue Wiggle, the Captain, and Dorothy the Dinosaur and Wags the Dog (who were usually played by Murray). Murray, Greg and Jeff say that after that and Anthony came back, they told him that 'they have to keep him', and the rest is history.
Paddick not only plays Captain Feathersword, but has played many other characters throughout the years including newsreporters, television hosts, a scuba diver, a lifesaver, a robber, the dog catcher, Singalottasonga, Foodman and various other characters in Space Dancing.
Paddick is married to Charmaine Martin who played Pirate Charlie, Wags The Dog and Henry The Octopus in the early days. They have 2 children, Connor, born in 2005, and Felix, born in 2013.
The first official Wiggles video to feature Paddick as the Captain was Wake Up Jeff! (1996). Wake Up Jeff! is also the first Wiggles video where Paddick played someone else besides the Captain.
Paul Paddick has become so closely associated with the band that he has been referred to as "the Fifth Wiggle", a name also given to Phillip Wilcher (who was the original Wiggle when they were patterned shirts).
He is also the first person to voice all Wiggles characters (Dorothy, Wags, Henry and Captain Feathersword.) and the second character to play all the Wiggles characters.
Album Production History
Song Credits
Wiggly, Wiggly Christmas - Composition (w/Murray Cook, Jeff Fatt, Anthony Field, Greg Page)
Go Santa Go - Additional Vocals
Ooh It's Captain Feathersword - Additional Vocals
Wiggly Medley - Additional Vocals
Trivia
Gallery
Ad blocker interference detected!
Wikia is a free-to-use site that makes money from advertising. We have a modified experience for viewers using ad blockers

Wikia is not accessible if you've made further modifications. Remove the custom ad blocker rule(s) and the page will load as expected.