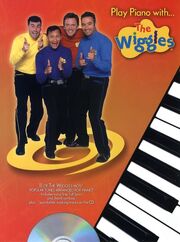 Play Piano with The Wiggles is a Wiggles songbook released on February 1st, 2007.
Plot
Enjoy the fun, laughter and learning and take the opportunity to Play Piano With...The Wiggles using these Piano parts to eleven of their most popular tunes.
This PVG edition contains Piano arrangements with vocal line, full lyrics and guitar symbols for each of these terrific songs. On the CD there are full sound-alike instrumental backing tracks: one with piano as well as one minus the piano so you can play along to each tune!
Songs in Book
Full Performance
Backing Track
Musicians
Staff
Music: Murray Cook, Jeff Fatt, Anthony Field, Greg Page, John Field and Paul Field
Arrangement: Murray Cook, Jeff Fatt, Anthony Field and Greg Page
Producer: Anthony Field
Trivia
All of the instruments were created by MIDI.
Gallery
Ad blocker interference detected!
Wikia is a free-to-use site that makes money from advertising. We have a modified experience for viewers using ad blockers

Wikia is not accessible if you've made further modifications. Remove the custom ad blocker rule(s) and the page will load as expected.