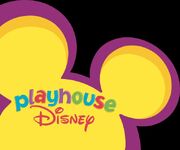 The Wiggles used to be a part of Playhouse Disney from around January 2002 to August 2009, where all their TV shows would air. But in 2009, the group ended their long-time and relationship with Playhouse Disney due to being surpassed in ratings by a newer preschool show Imagination Movers, and moved to Universal Kids (known then as PBS Kids Sprout and Sprout). Around 2011, Playhouse Disney was renamed Disney Junior.
Ad blocker interference detected!
Wikia is a free-to-use site that makes money from advertising. We have a modified experience for viewers using ad blockers

Wikia is not accessible if you've made further modifications. Remove the custom ad blocker rule(s) and the page will load as expected.