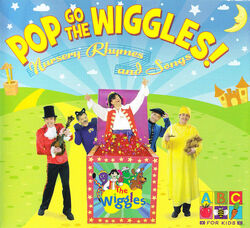 "Pop Go The Wiggles" is the first of two nursery rhyme albums made by The Wiggles. It was released on the 5th of August, 2007. It won the 2007 ARIA Music Awards for Best Children's Album.
Tracklist
Personnel
Trivia
Dominic Lindsay provides the arrangement for the string instruments and The Wiggles provides the arrangement for other instruments.
Maria Schattovits is credited as Maria Lindsay on this album.
Gallery
Album Booklet
Ad blocker interference detected!
Wikia is a free-to-use site that makes money from advertising. We have a modified experience for viewers using ad blockers

Wikia is not accessible if you've made further modifications. Remove the custom ad blocker rule(s) and the page will load as expected.