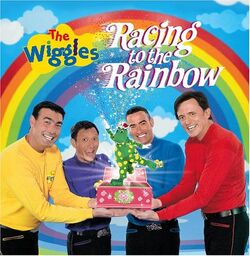 "Racing To The Rainbow" is the 28th Wiggles album which was released on the 28th of August, 2006. It won the 2006 ARIA Music Award for Best Children's Album. The accompanying video was released on September 7, 2006.
The songs "Run, Run, Run Away (A Storm Is On Its Way)" and "Baa-Baa Black Sheep" don't appear in the album, although do on the DVD.
Tracklist
Intro
Personnel
Vocals: Murray Cook, Jeff Fatt, Anthony Field, Greg Page, Paul Paddick, Kamahl, Georgie Parker and Zoe Velez
Manzillas: Brett Clarke, Ryan DeSaulnier and Sam Moran
Guitar: Anthony Field, John Field, Murray Cook and James Burton
Bass: Murray Cook and Chris Lupton
Keyboard: Jeff Fatt and Dominic Lindsay
Piano Accordion: Dominic Lindsay
Drums: Tony Henry and Derek Antunes
Bouzouki: George Tseros
The Wiggles are. Murray Cook, Jeff Fatt, Anthony Field and Greg Page
Staff
Producers: Anthony Field
Arrangements: Greg Page, Jeff Fatt, Murray Cook, Anthony Field, and Dominic Lindsay
Composers: Murray Cook, Jeff Fatt, Anthony Field, Greg Page, Malvina Reynolds, Frank Mills, John Field, Dominic Lindsay, Sam Moran, Brett Clarke, Paul Paddick, Angelo Lindsay, Margaret Lindsay and Paul Field
Engineered by: Alex Keller
Gallery
Album Booklet
Ad blocker interference detected!
Wikia is a free-to-use site that makes money from advertising. We have a modified experience for viewers using ad blockers

Wikia is not accessible if you've made further modifications. Remove the custom ad blocker rule(s) and the page will load as expected.