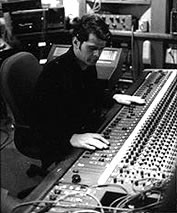 Robin Gist is a musician & engineer who worked on The Wiggles albums as listed.
CD Production History
Musician
Engineer
Songs Engineered
Wiggle Bay
Go to Sleep Jeff
Whoo Hoo! Wiggly Gremlins!
Top of the Tots
Cold Spaghetti Western
Santa's Rockin'!
Live Hot Potatoes!
Sailing Around the World
Here Comes the Big Red Car
Trivia
Robin mastered some of The Wiggles' albums such as Live Hot Potatoes.
Ad blocker interference detected!
Wikia is a free-to-use site that makes money from advertising. We have a modified experience for viewers using ad blockers

Wikia is not accessible if you've made further modifications. Remove the custom ad blocker rule(s) and the page will load as expected.