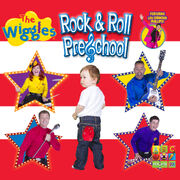 Rock & Roll Preschool is the 53rd Wiggles album which was released in Australia on February 6, 2015 by ABC Music. Distributed by Universal Music Group. It nominated the 2015 ARIA Music Awards for Best Children's Album but lost to Sam Moran Play Along with Sam's BOO!.
Song List
Musicians
Main Vocals - David Campbell, Anthony Field, Lachlan Gillespie, Lou Diamond Phillips, Paul Paddick, Simon Pryce, Robert Rakete and Emma Watkins
Backing Vocals - Anthony Field, Lachlan Gillespie, Simon Pryce, Paul Paddick and Emma Watkins
Guitars - Anthony Field
Piano, Keyboards and Whistle - Lachlan Gillespie
Drums - Anthony Field and Jae Nelson
Percussion - Lachlan Gillespie, Alex Keller, Jae Nelson and Emma Watkins
Bass - Alex Keller
Accordion - Nicolino DiSipo
Trumpet - Dominic Lindsay
Trivia
Gallery
Ad blocker interference detected!
Wikia is a free-to-use site that makes money from advertising. We have a modified experience for viewers using ad blockers

Wikia is not accessible if you've made further modifications. Remove the custom ad blocker rule(s) and the page will load as expected.