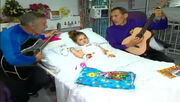 "Rudolph the Red-Nosed Reindeer" is a song written by Johnny Marks based on the 1939 story Rudolph the Red-Nosed Reindeer published by the Montgomery Ward Company.
The Wiggles cover their version of this song on their Wiggly, Wiggly Christmas album and video. In 2010, this song was sung again by Santa Claus in the album: Dorothy's Rockin' Christmas and later at the Australia Children's Hospital on Christmas Day by Anthony and Jeff.
Origins
Robert L. May created Rudolph in 1939, as an assignment for Chicago-based Montgomery Ward. The retailer had been buying and giving away coloring books for Christmas every year and it was decided that creating their own book would save money. May considered naming the reindeer "Rollo" or "Reginald" before deciding upon using the name "Rudolph." In its first year of publication, Montgomery Ward had distributed 2.4 million copies of Rudolph's story. The story is written as a poem in anapestic tetrameter, the same meter as "A Visit from St. Nicholas" (also known as "'Twas the Night Before Christmas"). Publication and reprint rights for the book Rudolph the Red-Nosed Reindeer are controlled by Pearson PLC.
The catchy tune was first played in Chicago's Drake Hotel by well-loved house pianist Joe "Opie" Gunther, a refugee from Nazi Germany. The song's first public broadcast came in 1949, when crooner Harry Brannon performed it on New York City radio in early November.
Of note is the change in the cultural significance of a red nose. In popular culture, a bright red nose was then closely associated with chronic alcoholism and drunkards, and so the story idea was initially rejected. May asked his illustrator friend at Montgomery Ward, Denver Gillen, to draw "cute reindeer," using zoo deer as models. The alert, bouncy character Gillen developed convinced management to support the idea.
Production
Greg sings lead, Murray and Anthony sings backing, and Paul Paddick provides the voice of Santa Claus. Murray plays the bass and acoustic guitars along with Anthony, Terry Murray plays the electric guitar, Jeff Fatt plays the electric piano that sounds like bells, Peter (Fuji) Icono plays the drusm and percussion, Maria Schattovits plays the violin, Margaret Lindsay plays the cello, and Dominic Lindsay plays the flugelhorn.
Song Credits
Musicians
Song Lyrics
Rudolf the Red-Nosed Reindeer
Had a very shiny nose.
And if you ever saw it,
You would even say it glows.
All of the other reindeer
Used to laugh and call him names.
They never let poor Rudolf
Join in any reindeer games.
Then one foggy Christmas Eve,
Santa came to say:
Santa Claus: "Ho, ho, ho! Rudolf with your nose so bright,
Won't you guide my sleigh tonight?
Then how the reindeer loved him.
And they shouted out with glee
"Rudolf the Red-Nosed Reindeer,
You'll go down in history!"
Video Performances
Album Appearances
Video
Ad blocker interference detected!
Wikia is a free-to-use site that makes money from advertising. We have a modified experience for viewers using ad blockers

Wikia is not accessible if you've made further modifications. Remove the custom ad blocker rule(s) and the page will load as expected.