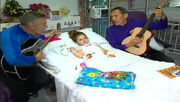 "Rudolph the Red-Nosed Reindeer" is a song written by Johnny Marks based on the 1939 story Rudolph the Red-Nosed Reindeer published by the Montgomery Ward Company.
The Wiggles cover their version of this song on their Wiggly, Wiggly Christmas album and video. In 2010, this song was sung again by Santa Claus in the album: Dorothy's Rockin' Christmas and later at the Australia Children's Hospital on Christmas Day by Anthony and Jeff.
Song Credits
1996 Version
2017 Version
Musicians
1996 Version
2017 Version
Vocals: Lachlan Gillespie, Simon Pryce
Backing Vocals: Lachlan Gillespie, Emma Watkins
Santa: Paul Paddick
Acoustic Guitar: Anthony Field
Bass Guitar: Alex Keller
Electric Guitar: Oliver Brian
Piano & Keyboard: Lachlan Gillespie
Drum Programming: Oliver Brian
Song Lyrics
Rudolf the Red-Nosed Reindeer
Had a very shiny nose.
And if you ever saw it,
You would even say it glows.
All of the other reindeer
Used to laugh and call him names.
They never let poor Rudolf
Join in any reindeer games.
Then one foggy Christmas Eve,
Santa came to say:
Santa Claus: "Ho, ho, ho! Rudolf with your nose so bright,
Won't you guide my sleigh tonight?
Then how the reindeer loved him.
And they shouted out with glee
"Rudolf the Red-Nosed Reindeer,
You'll go down in history!"
Trivia
The song was originally sung by Gene Autry.
Video Performances
Album Appearances
Video
Ad blocker interference detected!
Wikia is a free-to-use site that makes money from advertising. We have a modified experience for viewers using ad blockers

Wikia is not accessible if you've made further modifications. Remove the custom ad blocker rule(s) and the page will load as expected.