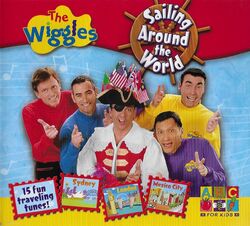 "Sailing Around the World" is a Wiggles album released in August 2005. The accompanying video was released in 2005 as well.
Tracklist
Personnel
The Wiggles are

Murray Cook,




Jeff Fatt,

Anthony Field

and Greg Page.

Produced by Anthony Field


Musical Arrangements:

The Wiggles, Dominic Lindsay


Vocals:

Greg Page


Backing Vocals:

The Wiggles


Guest Vocals:

Fernando Moguel, Fernandito
Moguel, Julio Moguel


Manzillas:

Craig Abercrombie, Brett Clarke, Ryan De
Saulnier, Sam Moran, Paul Paddick, Mark Punch


Guitars:

Anthony Field, John Field, Robin Gist,
Fernando Moguel, Mark Punch


Bass:

Murray Cook, Chris Lupton


Keyboard:

Jeff Fatt, Steve Blau, Dominic Lindsay


Brass:

Dominic Lindsay


Drums:

Tony Henry


Percussion:

Dominic Lindsay
Release Dates
Australia: August 4, 2005
Trivia
This is the last album to include Steve Blau on keyboards.
Here Come The Chicken is the only song that doesn't appear on this album, although that song was recorded in 2005 for Wiggly Animation.
Hula, Hula, Hula (Nothing Could Be Cooler), The Pennsylvania Polka, and Brisbane are the only songs that don't appear on video.
There have been mistakes on other album releases and the DVD release. For example, The Wiggles thought, John Field and Dominic Lindsay wrote Here We Go Mexico City!, but they didn't.
Both the Australian and US booklets show the same inside covers.
Mop Mop was previously sung in Santa's Rockin'! Live In Concert.
Roll Out the Barrel (The B.Barrel Polka) was known as The Barrel Polka in the US Version of the Sailing Around the World album.
Each introduction track before each song, apart from Sailing Around The World, is spoken in rhyme.
Despite The Wiggles being credited for backing vocals, only Anthony is heard speaking in one song, Agapame tin Athena (We Love Athens).
Gallery
Album Booklet
Australian Album Booklet
US Album Booklet
Double Pack
The Wiggles albums
Murray

,

Jeff

,

Anthony

,

Greg

and

Phillip

(1991)
Murray

,

Jeff

,

Anthony

and

Greg

(1992-2006, 2012)
Murray

,

Jeff

,

Anthony

and

Sam

(2007-2011)
Anthony

,

Lachy

,

Simon

and

Emma

(2013-present)
Dorothy the Dinosaur

(2007-2012)