"Sam" was the yellow wiggle from 2006-2012. In November 2006, Greg left The Wiggles after being diagnosed with Orthostatic Intolerance. Sam, Greg's understudy during times when Greg was feeling unwell, replaced him and was the yellow Wiggle for slightly more than five years before Greg re-gained his health and returned to his role as the yellow Wiggle. After Greg came back to the group, Sam left The Wiggles for good, but still continued to work with Children's music on his Nick Jr. Australia show, Play Along with Sam.
He played guitar, drums, and keyboards during his time with the group, making him one of the only Wiggles (along with Greg, Emma and Jeff) to have played all three of the other Wiggles' lead instruments. He also plays the trumpet.
Trivia
He has an off-screen relationship with Lyn Moran.
Sam sings opera just like Simon Pryce and Paul Paddick. 
Older fans were more reluctant to accept him as a Wiggle, due to their attachment to Greg.
He was an understudy of Greg before he was officially a Wiggle.
During Sam's time as the yellow wiggle, The Wiggles won Aria Awards for five years consecutively for Best Children's Album. .
At 6 foot 2 (1.88 m), he is the fourth tallest Wiggle out of all of 8 Wiggles that existed.
Sam was the second tallest Wiggle in the group of four during his time as the Yellow Wiggle. Murray was the tallest Wiggle during the Sam Moran era.
Gallery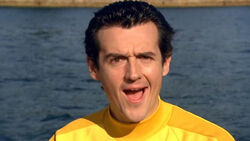 Click here to view the gallery.