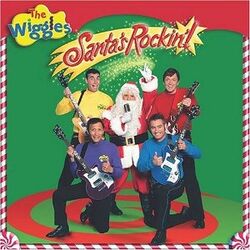 "Santa's Rockin'!" is the third Wiggles Christmas album. It received the ARIA award for Best Children's Album in 2004. It features special guests such as Ross Wilson, John Fogerty and Barry Williams. The accompanying video was released on November 11, 2004.
Tracklist
Personnel
Vocals: Murray Cook, Jeff Fatt, Anthony Field, Greg Page, Paul Paddick, Sam Moran, Jacqueline Fallon, John Fogerty, Julio Moguel, Fernando Moguel, Fernandito Moguel, Barry Williams and Ross Wilson
Backing Vocals: The Wiggles
Manzillas: Craig Abercrombie, Brett Clarke, Ryan DeSaulnier, Sam Moran, Paul Paddick and Mark Punch
Keyboards: Steve Blau, Jeff Fatt and Dominic Lindsay
Guitar: Anthony Field, John Field, Robin Gist, Mark Punch and Fernando Moguel
Bass: Murray Cook and Chris Lupton
Drums: Tony Henry
Percussionists: Steve Machamer and Dominic Lindsay
Brass: Dominic Lindsay
Harp: Victor Valdez
Violin: Maria Schattovits
Cello: Margaret Lindsay
Staff
Composers: Steve Blau, Murray Cook, Jeff Fatt, Anthony Field, Greg Page, John Field, Jester Hairston, Dominic Lindsay and Ross Wilson
Mixed and Mastered by Robin Gist
Engineers: Ross Hogarth, Robin Gist, and Julio Moguel
Package Design: Joe Arnold and Wendy Peticolas
Producers: Jenifer Carmody, Anthony Field and Paul Field
Production: Anthony Field (Audio Production)
Arrangers: Murray Cook, Jeff Fatt, Anthony Field, Greg Page, Dominic Lindsay, and Sam Moran
Artists: Greg Page, Murray Cook, Anthony Field, Jeff Fett, Ross Wilson, Barry Williams, Fernando Moguel Jr., Julio Morguel and John Fogerty
Trivia
Gallery
Album Booklet
Ad blocker interference detected!
Wikia is a free-to-use site that makes money from advertising. We have a modified experience for viewers using ad blockers

Wikia is not accessible if you've made further modifications. Remove the custom ad blocker rule(s) and the page will load as expected.