"Simon" is the red Wiggle who replaced Murray in 2013.
Character Information
Unlike Murray, the original red wiggle, Simon does not play guitar but usually instead lead sings in new Wiggles' songs. He sings in a baritone and operatic voice. His favorite game to play is Simon Says. Whenever he doesn't say "Simon Says", he responds by saying "Whoops, I didn't say Simon Says".
Trivia
Simon sings opera much like Sam Moran and Paul Paddick.
He has an off-screen relationship with Lauren Hannaford. 
He was an understudy for Murray before he was offically a Wiggle.
He is afraid of cold water.
He will get married to Lauren next year or two.
He is 14 years older than Lauren.
He is the only Wiggle who usually doesn't play a guitar very well.
Gallery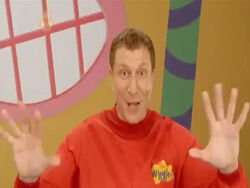 Click here to view the gallery.
Ad blocker interference detected!
Wikia is a free-to-use site that makes money from advertising. We have a modified experience for viewers using ad blockers

Wikia is not accessible if you've made further modifications. Remove the custom ad blocker rule(s) and the page will load as expected.