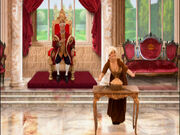 Sing A Song Of Sixpence is a Nursery Rhyme from Sing a Song of Wiggles.
Song Credits
Musicians
Song Lyrics
Sing a song of sixpence,
A pocket full of rye.
Four and twenty blackbirds,
Baked in a pie.
When the pie was opened,
The birds began to sing;
Wasn't that a dainty dish,
To set before the king?
The king was in his counting house,
Counting out his money;
The queen was in the parlor,
Eating bread and honey.
The maid was in the garden,
Hanging out the clothes,
When down came a blackbird
And pecked off her nose.
Trivia
An instrumental track of this song is played over the credits of the Sing a Song of Wiggles DVD.
Ad blocker interference detected!
Wikia is a free-to-use site that makes money from advertising. We have a modified experience for viewers using ad blockers

Wikia is not accessible if you've made further modifications. Remove the custom ad blocker rule(s) and the page will load as expected.