Space Dancing!

AU VHS Cover

Release Date(s)

March 17, 2003 (Australia)
September 9, 2003 (United States)
Feburary 18, 2008 (United Kingdom)

Previous Video

Whoo Hoo! Wiggly Gremlins! (2002)

Next Video

Top of the Tots (2003)
Space Dancing! is the fifteenth Wiggles video. This is also the 1st Wiggles video to feature the characters being animated (before Wiggly Animation clips were next introduced in Sailing Around the World). It only features 7 songs (the shortest DVD to feature a little amount of songs). The animation on the video may look like the animation of Toy Story 2.
Production
It took about 3 weeks to make this video. First The Wiggles read their scripts that were written by Greg Truman, then they recorded their voices, after that they filmed their live-action scenes.
Song List
Cast
Voices
Main Characters
Also Featuring
Guest Star
Unreleased Album
Watch
Gallery
The Video
Bonus Clips
Behind the Scenes
Premiere
DVD Menu Gallery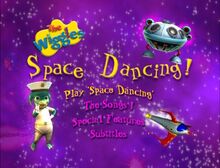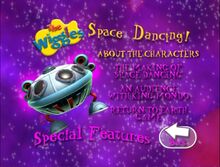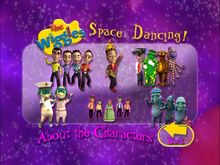 Promo Pictures
Trivia
Some of the background music is a remixed version of what was previously heard in TV Series 1.
The Wigglehouse Lounge Room looks different in this video: The carpet has a red and dark blue checker design and the fireplace has a Different design. The pictures on the wall have been changed as well.
"Fergus' Jig" was shortened.
A song called "Heading In the Right Direction" is added in the end credits. It may have been a deleted song that was never omitted from the credits.
In "Eagle Rock", the words "All Together Now" are seen in the background that are similar to a Beatles song in the "Yellow Submarine" film, soundtrack and songtrack.
Because there are only six songs in this video, there is no album of this. Instead they added the songs to the Wiggle Bay (album) because it was the closest release.
This is the 2nd video to feature the Wiggles toys commercial. The first was Wiggle Bay.
This video shows that The Wiggles look like CGI animated cartoons in Jeff's dreams but in 1997 videos such as (Wiggly, Wiggly Christmas and The Wiggles: Live at Disneyland) as well as a 1999 Episode "Wiggle Food", The Wiggles look normal in Jeff's dreams.
In 2005, the US DVD was repackaged. The copyright date was changed and the disc's picture and it's content are different.
Ad blocker interference detected!
Wikia is a free-to-use site that makes money from advertising. We have a modified experience for viewers using ad blockers

Wikia is not accessible if you've made further modifications. Remove the custom ad blocker rule(s) and the page will load as expected.