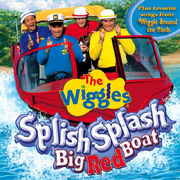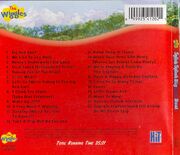 "Splish, Splash, Big Red Boat" is a Wiggles album which was released on May 1, 2006 in America. It is based off of the video of the same name, and its predecessor, Wiggle Around The Clock/It's Time to Wake Up Jeff!.
It is commonly thought to be the American alternative to the It's Time to Wake Up Jeff! album, since most of the songs here also appear on that album. For this reason, the CD never came out in Australia.
Tracklist
Note: All songs are taken from It's Time to Wake Up Jeff, except where noted otherwise.
Musicians
Vocals - Murray Cook, Jeff Fatt, Anthony Field, Greg Page, Paul Paddick, Fernandito Moguel, James Arthur Chen, Sam Moran, Caterina Mete, Alfonso Rinaldi
Backing Vocals - Brett Clarke, Ryan DeSaulnier, Sam Moran, Greg Truman, Francisco Meid, Zoe Velvez, Katty Villafuerte, Paul Paddick, Mark Punch, Rick Price, Samuel Chung, Vivi Lin, Danny Shao, Jane Bezzina, Greg Page
Piano, Organ & Snoring - Jeff Fatt
Accordion - Jeff Fatt, Dominic Lindsay
Drums/Percussion - Tony Henry
Trumpet, Flugelhorn & Piccolo Trumpet - Dominic Lindsay
Bass - Murray Cook, Chris Lupton
Guitars - Murray Cook, Anthony Field, Terry Murray, John Field
Character Voices - Emma Buter, Paul Paddick, Carolyn Ferrie, Mario Martinez-Diaz, Jeff Fatt
Congas - Paul Rodgers
Violin - Maria Schattovits
Cello - Margaret Lindsay
Jew's Harp - Anthony Field
Hand Claps - Murray Cook, Jeff Fatt, Anthony Field, Greg Page
Bouzouki - George Tseros
Chief Kabasa Player - Murray Cook
Staff
Note: the writers, staff and publishers that are not credited (*)
The Wiggles are. Murray Cook, Jeff Fatt, Anthony Field and Greg Page
Music Produced by: Anthony Field
Musical Arrangements: The Wiggles and Dominic Lindsay
The Wiggles Team: Paul Field, Mike Conway, Michelle Ahern, Carmelina Arcella, Leeanne Ashley, Liam Donaghy, Sharyn Garrad, Kylie Gull, Alex Keller, Jaroslav Kyral, Jill Lloyd, Sarah McCloskey, Oliver Morton-Evans, Pablo Munoz, Ben Murrow, Tony Rioseco, James Rioseco, David Roberts, Marc Taylor and Kate Tibbertsma
Songs written by: Murray Cook, Jeff Fatt, Anthony Field, Greg Page, John Field, Paul Field, Dominic Lindsay* and Traditional
Songs arranged by: Murray Cook, Jeff Fatt, Anthony Field and Greg Page
Songs published by: Wiggly Tunes
Gallery
Album Booklet
Release Date
America: May 1, 2006.
Just like Wiggledancing! Live in the USA, this CD was never released in any other country except the US.
Trivia
There are only 5 songs exclusive to this album, 4 of which are Spanish re-recordings of past Wiggles songs. The other songs here come from multiple different albums, including Here Comes A Song, Yummy Yummy, Wake Up Jeff! and It's a Wiggly, Wiggly World!
Multiple songs seen on both the Splish, Splash, Big Red Boat and It's Time to Wake Up Jeff! videos aren't on this album for unknown reasons.
Little Brown Ant as got incorrect songwriter credits it said that the song was written by The Wiggles, but it was still the original version which was not written by Murray, Jeff and Greg It was actually written by Anthony.
The song Big Red Boat wasn't released on CD in Australia until 2014. In fact, it's the only original song that was not only written by The Wiggles, but also by John Field, and Dominic Lindsay.
The songs that received Spanish re-recordings are Fruit Salad, I Climb Ten Stairs, Move Your Arms Like Henry, and Quack Quack.