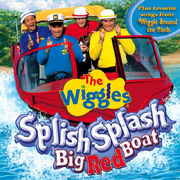 "Splish Splash Big Red Boat" is a Wiggles album which was released exclusively in North America on May 1, 2006. It contains songs used in the video of the same name and its predecessor, Wiggle Around the Clock.
Its Australian equivalent is the album It's Time to Wake Up Jeff! (the original Australian title for Wiggle Around the Clock), containing many of the same tracks).
Tracklist
Note: All songs are taken from It's Time to Wake Up Jeff, except where noted otherwise.
Personnell
The Wiggles are. Murray Cook, Jeff Fatt, Anthony Field and Greg Page
Music Produced by: Anthony Field
Musical Arrangements: The Wiggles and Dominic Lindsay
The Wiggles Team: Paul Field, Mike Conway, Michelle Ahern, Carmelina Arcella, Leeanne Ashley, Liam Donaghy, Sharyn Garrad, Kylie Gull, Alex Keller, Jaroslav Kyral, Jill Lloyd, Sarah McCloskey, Oliver Morton-Evans, Pablo Munoz, Ben Murrow, Tony Rioseco, James Rioseco, David Roberts, Marc Taylor and Kate Tibbertsma
Gallery
Album Booklet
Release Date
America: May 1, 2006.
Trivia
The Wiggles albums
Murray

,

Jeff

,

Anthony

,

Greg

and

Phillip

(1991)
Murray

,

Jeff

,

Anthony

and

Greg

(1992-2006, 2012)
Murray

,

Jeff

,

Anthony

and

Sam

(2007-2011)
Anthony

,

Lachy

,

Simon

and

Emma

(2013-present)
Dorothy the Dinosaur

(2007-2012)