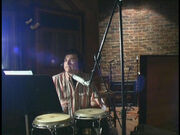 Steven 'Steve' Machamer is a percussionist who worked on The Wiggles' albums since 2002, like The Best of The Wiggles.
Trivia
Steve has a wife named Margaret Lindsay who plays the cello.
Steve appears in a Behind the Scenes clip of the Eagle Rock recording.
Steve was involved with Prokofiev: Peter and the Wolf; Schickele: A Zoo Called Earth; Kubik: Gerald McBoing Boing and Ben Yarmolinsky's album April 15th Blues.