"
Storytime with Anthony
" is a interactive game from
A Day With The Wiggles
.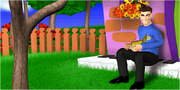 Info
Anthony is reading a book called "Dorothy's Birthday Party" which is one of Anthony's favourtie stories. As he reads the story, you will be able to help along by decorating the party invitation, choosing balloons with Wags, stack up the biggest to smallest present pile with Captain Feathersword, choosing flowers for Dorothy and even icing the cake. If you want to, you can click on the arrows to turn the pages but it's all up to you. At the end of the story, they all say surprise to Dorothy and Dorothy says to thank all for a nice surprise birthday party, even you get to see the stuff that you made at the party. WHAT A GREAT PARTY!
Gallery
Ad blocker interference detected!
Wikia is a free-to-use site that makes money from advertising. We have a modified experience for viewers using ad blockers

Wikia is not accessible if you've made further modifications. Remove the custom ad blocker rule(s) and the page will load as expected.