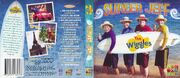 "Surfer Jeff" is a Wiggles CD that was released on May 3rd, 2012. This is the last studio album to feature Greg, Murray and Jeff. It won the 2012 ARIA Music Awards for Best Children's Album.
Tracklist
Personnell
Vocals: Blathnaid Conroy-Murphy, Murray Cook, Jeff Fatt, Anthony Field, Paul Paddick, Greg Page, Simon Pryce, Alfonso Rinaldi
Manzillas/Backing Vocals: Craig Abercrombie, Brad Carroll, James Arthur Chen, Blathnaid Conroy-Murphy, Paul Paddick, Greg Page, Simon Pryce, Mark Punch
Musicians
Staff
Trivia
Rolling Down the Sandhills and Running Up the Sandhills are the only songs that weren't re-recorded.
Simon Pryce who later became the Red Wiggle in 2013 wrote for Surfer Jeff, The Mini Foxie Puppy Dance, Ooey, Ooey, Ooey Allergies! & It's Peanut Butter.
Murray, Jeff, Anthony, John & Paul wrote Look Before You Go
Murray, Jeff, Anthony, Greg & Caterina wrote arranged the music for Dorothy the Dinosaur's Beach Party.
This is the first album where The Wiggles sing Waltzing Matilda. It was previously heard as an instrumental in Hot Poppin' Popcorn.
The rumor says that in some websites, "Belles of Paris" appear on the song list but it doesn't appear on the CD itself, not even on the DVD.
Would You Like To Go To Scotland? reuses the instrumental song A Scottish Christmas.
An Irish Dinosaur Tale adapts Pipers Waltz.
This album features musicians Melissa Kenny on trombone, Mark Marriott on drums, Danny May on saxophone,and Stephen Schaefer on saxophone.
All of the songs were written and arranged by The Wiggles and their friends.
Simon Pryce is involved with writing songs.
John Field is involved with writing songs and doing instrumentals.
The songs Balla Balla Bambina and C'est Wags, C'est Bon are arranged by the four Wiggles.
Murray Cook, Jeff Fatt, Anthony Field, and Greg Page wrote the lyrics for Would You Like to Go to Scotland?
Gallery
Album Booklet
Ad blocker interference detected!
Wikia is a free-to-use site that makes money from advertising. We have a modified experience for viewers using ad blockers

Wikia is not accessible if you've made further modifications. Remove the custom ad blocker rule(s) and the page will load as expected.