About
The Best of the Wiggles on Vinyl was released on Feburary 10, 2016.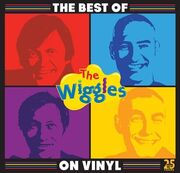 It's a vinyl record featuring original hits from The Wiggles.
Description
From Blacktown to Brooklyn, from Newcastle to New York, From Townsville to Toronto, from Lithgow to London, from Dubbo to Dubai, The Wiggles have taken their music to the world. What started as an idea Anthony had to combine his studies in Early Childhood Education with his musical background, along with a few mates named Jeff, Murray and Greg, became musical history. These songs may be just some of the catchiest songs ever written. To celebrate the 25th anniversary of the wiggles, here are the original hits from the original group. Enjoy!
Tracklist
SIDE 1
SIDE 2
Musicians
Vocals - Murray Cook, Jeff Fatt, Anthony Field, Greg Page, Paul Paddick, Carolyn Ferrie
Backing Vocals - Greg Truman, Murray Cook, Paul Paddick, Kevin Bennett, Jeff Fatt, Anthony Field, Mark Punch, Paul Field, Craig Abercrombie, Sam Moran, Simon Pryce, Greg Page
Drums - Tony Henry, Andrew Bignell, Paul Hester, Peter Iacono
Percussion - Tony Henry, Paul Hester, Anthony Brane
Acoustic Guitar - Murray Cook, Anthony Field, Tony Douglas, Terry Murray
Bass - Murray Cook
Accordion, Piano, Monkey Sound, Keyboard Flute - Jeff Fatt
Organ - Jeff Fatt, Greg Page
Clapping - Murray Cook, Jeff Fatt, Anthony Field, Greg Page
Shh Sounds - Greg Page, Greg Truman
Violin - Maria Schattovits
Viola - Angela Lindsay
Cello - Margaret Lindsay
Electric Guitar - Murray Cook, Terry Murray, John Field, Tony Douglas, Anthony Field, Rex Kelleher
Trumpet & Flugelhorn - Dominic Lindsay
Saxophone - Anita Thomas
Elephant Sound & Cowbell - Greg Page
Tiger Sound - Anthony Field
Gallery
Ad blocker interference detected!
Wikia is a free-to-use site that makes money from advertising. We have a modified experience for viewers using ad blockers

Wikia is not accessible if you've made further modifications. Remove the custom ad blocker rule(s) and the page will load as expected.