About
The Best of the Wiggles on Vinyl was released on Feburary 10, 2016.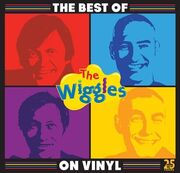 It's a vinyl record featuring original hits from The Wiggles.
Description
From Blacktown to Brooklyn, from Newcastle to New York, From Townsville to Toronto, from Lithgow to London, from Dubbo to Dubai, The Wiggles have taken their music to the world. What started as an idea Anthony had to combine his studies in Early Childhood Education with his musical background, along with a few mates named Jeff, Murray and Greg, became musical history. These songs may be just some of the catchiest songs ever written. To celebrate the 25th anniversary of the wiggles, here are the original hits from the original group. Enjoy!
Tracklist
SIDE 1
SIDE 2
Gallery