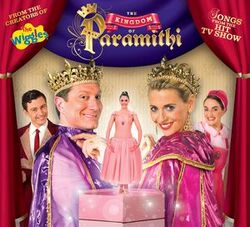 "The Kingdom of Paramithi" was the soundtrack of the show The Kingdom of Paramithi which was a show created by The Wiggles.
The Kingdom Of Paramithi Audio CD
The Kingdom Of Paramithi
Introduction
Three Lovely Bowls
Introduction
Tell A Tale Of Puss In Boots
Introduction
Medal Presentation
My Name Is Robin Hood
Anastasia's Song
Introduction
Let's Get The Costumes
I'm Paramithi's King
Poor Lovely Swan
The Marching Soldiers Song
So Now I'm A King
Now We Can Put On A Show
Introduction
I Am A Green Frog
Three Lovely Chairs
We Need A Cast
I Am Captain Jeremiah
Introduction
Pinocchio
The Batter Song
Introduction
Cinderella's Song
I Sail Across The Sea
We Prayed For The Sight Of The Navy
I'm The Major General Of Paramithi
Introduction
Three Lovely Beds
Here's A Magic Lamp
Let Me In, It's Cold And Raining
Faint Heart Never Won The Treasure
Introduction
It's Goodbye
Musicians
Staff
Ad blocker interference detected!
Wikia is a free-to-use site that makes money from advertising. We have a modified experience for viewers using ad blockers

Wikia is not accessible if you've made further modifications. Remove the custom ad blocker rule(s) and the page will load as expected.