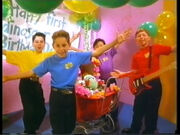 The Little Wiggles are The Wiggles as kids. They were first seen in The Wiggles Movie and TV Series 2 but they weren't main characters until The Wiggles Show. Their songs never made an appearance in any albums or videos. In the Ready, Steady, Wiggle! episode, Lachy Shrinks the Wiggles, Little Emma and Little Anthony make a cameo appearance, as well as in The Wiggles Meet the Orchestra (all of The Wiggles including Andy). In Wiggle, Wiggle, Wiggle, they become main characters again.
Gallery
Ad blocker interference detected!
Wikia is a free-to-use site that makes money from advertising. We have a modified experience for viewers using ad blockers

Wikia is not accessible if you've made further modifications. Remove the custom ad blocker rule(s) and the page will load as expected.