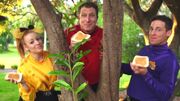 The Replacement Wiggles
are
Simon
,
Emma
and
Lachy
. They took over for The Unforgotten Wiggles (the colors yellow, red, and purple) in 2012 so they could hang out more with their family and friends. They usually don't play guitars but they love singing and dancing while
Anthony
plays guitar. One of them, Simon, sings more than the other two, Lachy and Emma, do.
Trivia
During the Celebration Tour, they were called The Wiggles in Training.
They are also Non-Realistic as well, but since there's something special/certain about them, and that's replacing The Unforgotten Wiggles, they just remain The Replacement Wiggles when it's just those three we're talking about. But if they're with Captain Feathersword, then they can be non-realistic.
Extras
Gallery
Ad blocker interference detected!
Wikia is a free-to-use site that makes money from advertising. We have a modified experience for viewers using ad blockers

Wikia is not accessible if you've made further modifications. Remove the custom ad blocker rule(s) and the page will load as expected.