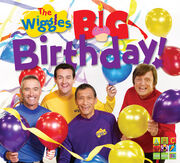 "The Wiggles' Big Birthday" is a Wiggles album celebrating 20 years of The Wiggles.
Tracklist
Big Birthday Introduction
Al Roker's Introduction
Thank You Mr. Weatherman (Featuring Al Roker, Australian version only)
Wiggly Joke Time With Captain Feathersword
Rock-a-Bye Your Bear (Live)
Quack Quack (Live)
Ballerina, Ballerina (Live)
Wake Up Jeff! (Live)
I Love it When it Rains (Featuring Troy Cassar-Daley)
Jack and Jill (Live)
Wiggly Joke Time With Murray
Fly Through The Sky (Live)
Wags' Introduction
Fruit Salad (Live)
Warramiri Language Introduction
Ngalmam Djangu Godku Yumarrku (We Are All in God's Family) (Featuring Kathy Gothadjaka)
Five Little Joeys (Live)
The Shimmie Shake (Live)
Wiggly Joke Time With Dorothy
Follow the Leader (Live)
Romp Bomp A Stomp (Live)
Shaky Shaky (Live)
Dorothy's Introduction
Dr. Knickerbocker (Live)
Wiggly Joke Time With Captain Feathersword
It's a Wiggly Circus (Live)
Murray's Introduction
Hot Potato (Live)
Goodbye Message From The Wiggles
Musicians
Vocals - Murray Cook, Jeff Fatt, Carolyn Ferrie, Kathy Gothadjaka, Anthony Field, Anna-Lee Robertson, Sam Moran, Paul Paddick, Emma Pask, Simon Pryce
Special Guest Vocalists - Troy Cassar-Daley, Al Roker
Manzillas/Backing Vocals - Craig Abercrombie, Brett Clarke, Paul Paddick, Simon Pryce, Greg Truman, Mark Punch, Kevin Bennett, Sam Moran, Paul Field, Ryan DeSaulnier
Bass - Murray Cook, Alex Keller, Chris Lupton
Guitars - Murray Cook, Anthony Field, John Field, Tony Douglass
Drums - Anthony Howe, Steve Pace, Tony Henry
Percussion - Tony Henry, Steve Machamer
Accordion - Jeff Fatt, Dominic Lindsay
Trumpet/Organ - Dominic Lindsay
Piano - Jeff Fatt, Steve Blau
Violin - Maria Schattovits
Viola - Angela Lindsay
Cello - Margaret Lindsay
Bouzouki - George Tseros
Release Dates
Australia - June 2, 2011
America - July 17, 2012
UK - August 18, 2011
Ad blocker interference detected!
Wikia is a free-to-use site that makes money from advertising. We have a modified experience for viewers using ad blockers

Wikia is not accessible if you've made further modifications. Remove the custom ad blocker rule(s) and the page will load as expected.