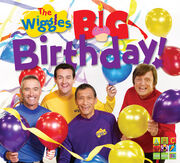 "The Wiggles' Big Birthday" is a Wiggles album celebrating 20 years of The Wiggles.
Tracklist
Musicians
Vocals - Murray Cook, Jeff Fatt, Carolyn Ferrie, Kathy Gothadjaka, Anthony Field, Anna-Lee Robertson, Sam Moran, Paul Paddick, Emma Pask, Simon Pryce
Special Guest Vocalists - Troy Cassar-Daley, Al Roker
Manzillas/Backing Vocals - Craig Abercrombie, Brett Clarke, Paul Paddick, Simon Pryce, Greg Truman, Mark Punch, Kevin Bennett, Sam Moran, Paul Field, Ryan DeSaulnier
Bass - Murray Cook, Alex Keller, Chris Lupton
Guitars - Murray Cook, Anthony Field, John Field, Tony Douglass
Drums - Anthony Howe, Steve Pace, Tony Henry
Percussion - Tony Henry, Steve Machamer
Accordion - Jeff Fatt, Dominic Lindsay
Trumpet/Organ - Dominic Lindsay
Piano - Jeff Fatt, Steve Blau
Violin - Maria Schattovits
Viola - Angela Lindsay
Cello - Margaret Lindsay
Bouzouki - George Tseros
Release Dates
Australia - June 2, 2011
America - July 17, 2012
UK - August 18, 2011
Trivia
Gallery
Ad blocker interference detected!
Wikia is a free-to-use site that makes money from advertising. We have a modified experience for viewers using ad blockers

Wikia is not accessible if you've made further modifications. Remove the custom ad blocker rule(s) and the page will load as expected.