TV Series 2



Original Airdate

January 27, 1999

Finale Airdate

July 25, 2000

Debut episode

Finale episode

Preceded by

Followed by
The Wiggles (TV Series 2) was The Wiggles' 2nd TV Series filmed in 1999 and aired in that year until 2000. It was shown on the same channels as its predecessor. It was renewed when "Toot Toot!" was released and filming started after Thanksgiving. When The Wiggles started airing their episodes on Playhouse Disney, this aired before TV Series 1.
It featured songs from the 4 videos that came out before it, Wiggle Time (1998 video), Yummy Yummy (1998 video), Toot Toot!, and The Wiggly Big Show. It also featured a few songs from Big Red Car and Wake Up Jeff! re-shot in the style of the episodes.
Production
The first 13 episodes were filmed in November 1998 while the last 13 were filmed in January and February 1999, so it took about 4 months to film this show.
Episodes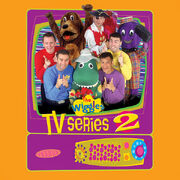 Opening
The Series 2 opening features a bee pollinating a flower in Dorothy's garden to reveal the logo. Then the camera zooms down towards the characters: first Dorothy the Dinosaur, who sets the bee free, then the camera zooms down towards Wags the Dog's house, who is literally watching the Waggettes' rolling act. The camera then zooms past a crossroad and Captain Feathersword's dock. The camera zoom towards Henry the Octopus' house, whose dialog is: "Hi, everybody! Whoa!". A seagull bursts out and flies toward Wigglehouse, where The Wiggles either greet the viewers with a walk down, dance or wave.
Trivia
A lot of the short music pieces and sound effects are reused from The Wiggles Movie.
This Season used a lot of CGI
This Was The First Season to include Flora Door
This season aired on Seven Network in Australia.
Promo Pictures
Transitions