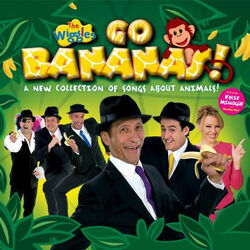 "The Wiggles Go Bananas" is The Wiggles' album released in 2009 featuring songs all about animals! 100% of the donations of royalties of the song Monkey Man featuring Kylie Minogue went to UNICEF Australia. It won the 2009 ARIA Music Awards for Best Children's Album.
Tracklist
Intro
Monkey Man (Featuring Kylie Minogue)
The Unicorn (Featuring Morgan Crowley)
Rusty The Cowboy (Featuring John Waters)
Personnel
Staff
Producer: Anthony Field
Arrangers: Sam Moran, Murray Cook, Anthony Field, Jeff Fatt, John Field and Paul Paddick
Composers: Alfonso Rinaldi, Sam Moran, Murray Cook, Anthony Field, Jeff Fatt, John Field, Paul Field, Frederick Hibbert, Dominic Lindsay, Paul Paddick, Johnny Patterson, Shel Silverstein and John Waters
Lyricist: Shel Silverstein
Engineer: Alex Keller
Artists: John Waters and Kylie Minogue
Mastering: Robin Gist
Trivia
The Unicorn is the only song that doesn't appear on the Go Bananas! DVD.
This is the first album since the 1991 debut album where Anthony Field provides the musical arrangements.
Ad blocker interference detected!
Wikia is a free-to-use site that makes money from advertising. We have a modified experience for viewers using ad blockers

Wikia is not accessible if you've made further modifications. Remove the custom ad blocker rule(s) and the page will load as expected.