"The Wiggles Movie" was first released on VHS in Australia on June 20th 1998. The VHS includes a bonus video clip of The Wiggles at the start when they are going to watch The Wiggles Movie. This was later re-released on VHS in 2000. It was then released in the US on VHS and DVD as Magical Adventure: A Wiggly Movie in 2003. In Australia the movie was re-released on DVD November 12th, 2003 but used the US version for a unknown reason. Finally, in the US the DVD was re-released in 2007.
Plot
Wally the Great (Tony Harvey), great-grandson of Waldo the Magnificent, is an amateur magician whose dream is to win the competition at the Magic Club for Best Magician. However, he is confronted with a rival, Roland the Remarkable (Dale Burrdge), who believes Wally is a nobody. Meanwhile, children's entertainers The Wiggles, consisting of lead singer Greg, guitarist Murray, drummer Anthony and pianist Jeff, are performing at a nearby school. Mrs Bingle (Joanne Samuel), the principal, had an accident with Anthony after she blew a whistle to wake Jeff up before the show, causing him to act extremely silly. Wally, watching from behind a wall, sees Dorothy herself laying Greg's (who is a magician) magic wand on a table while sulking that everyone has forgotten her birthday but really they were trying to keep the surprise party for her a secret. Wally quickly snatches it but is caught by Dorothy. The two have a tug of war and the wand breaks in half.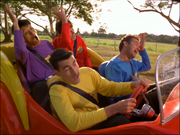 Meanwhile, the Wiggles decide to go out looking for Dorothy in their Big Red Car. After seeing Henry the Octopus and his Underwater Big Band, they happen upon Brrrrrrrrrr Street where they get frozen. Since they have no luck finding Dorothy, they go to Wigglehouse where they ace a test given to them by their talking door, mix up their skivvies, have a flashback of the first time they celebrated Dorothy's birthday, and do the Romp Bomp a Stomp. Meanwhile, The wand is broken to bits after an accident with Wags the Dog and his pups. During the adventures that they have, their friendship grows more and more. When they visit Captain Feathersword the Friendly Pirate, a crew member falls in the water and Wally saves him and is rewarded a medal with a mini feathersword planted on it.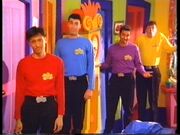 Dorothy leaves and sits on a bench, sadly, complaining to Wally that nobody remembers her birthday. Wally then says "I didn't forget your birthday" which makes Dorothy a little bit better. Wally begins to daydream about his grandfather, Waldo, saying to him to believe in himself. Wally forgets all about the Magic Competition and is almost late but thanks to Dorothy, makes it. However, Jimbo the Juggler blocks their way and say that Wally should put his vehicle in the full car park but Wally thinks quick and says "You find a spot" and tosses his helmet at him leaving Jimber pinch-faced. He then signs in and runs into Roland who clearly amuses the judges when his score is 9-9-9. Wally find his Grandfather's old chest of magic supplies and is confident in himself.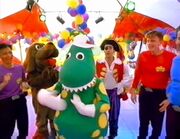 Meanwhile, the Wiggles are waiting for Dorothy to come to the party but nobody shows up. After Wally does his magic act, the judges score him 10-9-9. He wins the competition which leaves Roland jealous but at the same time impressed. Wally takes Dorothy to her party when it is just about to be canceled and the party begins. Dorothy is proud that she has found a new friend and that her friends remembered her birthday.
Movie Info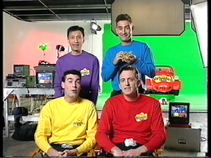 Releases
AUS video release: June 20, 1998
AUS video re-release: 2000
US VHS & DVD release: February 4, 2003
AUS DVD release: November 12, 2003
Opening Previews (AUS)
NOTE: This only applies to the 1998 VHS. The 2000 re-release has no previews, just the Warning Screen, Copyright Protection Information, 20th Century Fox Home Entertainment logo, the addition of a Feature Presentation logo and Rating.
Australian 20th Century Fox Warning Screen
Copyright Protection Information
20th Century Fox Home Entertainment Logo
Ferngully 2: The Magical Rescue VHS Trailer
Welcome To The Movies/Fox Night At The Movies intro
Anastasia Theatrical Trailer
Anastasia: Adventures with Pooka and Bartok CD Rom PC/MAC Trailer
The Wiggles Movie Soundtrack Trailer
Video Rating
Greg, Murray, Anthony and Jeff's Introduction to the Movie
DVD Menus
VHS and DVD Cover Art
Wiggly Videos and DVDs
| | |
| --- | --- |
| 1993 - 1996 | Wiggle Time (1993) • Yummy Yummy (1994) • Big Red Car (1995) • Wake Up Jeff! (1996) • Wiggledance! Live in Concert (1997) |
| 1997 - 2001 | Wiggly, Wiggly Christmas (1997) • Wiggle Time (re-recording) (1998) • Yummy Yummy (re-recording) (1998) • The Wiggles Movie (1998) • Toot Toot! (1998) • The Wiggly Big Show (1999) • It's a Wiggly, Wiggly World (2000) •Yule Be Wiggling (2001) • Hoop Dee Doo: It's a Wiggly Party (2001) |
| 2002 - 2006 | Wiggly Safari (2002) • Wiggle Bay (2002) • Space Dancing! (2003) • Whoo Hoo! Wiggly Gremlins! (2003) • Top of the Tots (2003) • Cold Spaghetti Western (2004) • Santa's Rockin'! (2004) • Live Hot Potatoes! (2005) • Sailing Around the World (2005) • Here Comes the Big Red Car (2006) • It's Time to Wake Up Jeff! (2006) • Splish Splash Big Red Boat (2006) • Wiggledancing! Live in the USA (2006) • Racing to the Rainbow (2006) |
| 2007 - 2011 | Wiggledancing! Live in Concert (2007) • Getting Strong (2007) • Pop Go The Wiggles (2007) • You Make Me Feel Like Dancing (2008) • Sing a Song of Wiggles (2008) • The Wiggles Go Bananas! (2009) • The Wiggles' Big Big Show! (2009) • Hot Poppin' Popcorn (2009) • Hot Potatoes! The Best of The Wiggles (2010) • Let's Eat (2010) • Ukulele Baby! (2011) • The Wiggles' Big Birthday! (2011) • It's Always Christmas With You (2011) |
| 2012 | Surfer Jeff (2012) • Celebration! (2012) |
| 2013 - present | Taking Off! (2013) • Furry Tales (2013) • Pumpkin Face (2013) • Go Santa Go! (2013) • Hot Potatoes! (New Version, 2014) • Apples and Bananas (2014) • Wiggle House (2014) • Rock & Roll Preschool (2015) • The Wiggles Meet the Orchestra (2015) • Wiggle Town (2016) • Dance, Dance! (2016) • Nursery Rhymes (2016/2017) • Wiggle Around Australia (2017) • Duets (2017) • Wiggly, Wiggly Christmas (2017) • The Best of The Wiggles (2018) |
| Spin-Off videos | The Dorothy the Dinosaur and Friends Video (1999) • Captain Feathersword, the Friendly Pirate (2000) • Dorothy the Dinosaur's Party (2007) • Dorothy the Dinosaur's Memory Book (2008) • Dorothy the Dinosaur Meets Santa Claus (2009) • Dorothy's Rockin' Christmas (2010) • Dorothy the Dinosaur's Travelling Show (2011) • Dorothy the Dinosaur's Beach Party (2012) • Emma! (2015) • Dial E for Emma (2016) • Lachy! (2017) |
| TV Episode Collections | Wiggly TV (2000) • Wiggly Play Time (2001) • Lights, Camera, Action! (2005) • TV Series 1 Collector's Box Set (2005) • TV Series 2 Collector's Edition (2007) • TV Series 3: Lights, Camera, Action! (2008) • The Wiggles Show - The Pick of TV Series 4 (2010) • Ready, Steady, Wiggle! - The Pick of TV Series 5 (2010) • Dorothy the Dinosaur - TV Series 1 (2010) • Wiggle and Learn - The Pick of TV Series 6 (2011) • Wiggle and Learn DVD Collection (2011) • Dorothy the Dinosaur's Wonderful World (2012) • Wake Up Lachy! (2014) Emma's Bowtiful Day (2014) • Anthony's Fruity Feast! (2015) • Simon Says! (2016) • Fun, Fun, Fun! (2016) |
| Promotional/Bonus videos | Dorothy the Dinosaur Goes to Hospital (1999) • Happy 15th Birthday! (2006) • On the Road with The Wiggles (2009) • Wiggle Treats! (2011) • Everybody Clap! Everybody Sing! (2011) |
| Changed US and UK releases | Big Red Car (Toot Toot!) (1999) • It's a Wiggly, Wiggly World! Live in Concert (The Wiggly Big Show) (1999) • Dance Party (Big Red Car) (2001) • Magical Adventure! A Wiggly Movie (The Wiggles Movie) (2003) • Wiggle Around the Clock (It's Time to Wake Up Jeff!) (2006) • Wiggly Halloween (Pumpkin Face) (2013) |
| Other | ABC For Kids Video Hits (1991) • ABC For Kids Video Hits Volume 2 (1992) • ABC For Kids: Live In Concert (1993) • The Kingdom of Paramithi (2009) • Baby Antonio's Circus (2011) |
| Unfinished/Unreleased videos | Wiggly, Wiggly Christmas (1996) • Getting Strong! (2006) |