TV Series 4 & 5



Episodes

26

Filmed

2003-2005

Created by

Original Network

Opening Theme

Closing Theme

Original airdate

March 18 2005
(Dorothy's Ballet)

Final airdate

August 17 2006
(Fun at the Beach)

Preceded by

Followed by
The Wiggles Show!
is the name of the 4th & 5th Wiggles TV Series. The main segments were filmed from at the ABC Studios in 2004 to 2005 and it was aired on ABC Kids in 2005 to 2006 in Australia.
Series 4 was produced mainly in 2004, and aired in 2005. And This a series featured songs from Top of the Tots, LIVE Hot Potatoes!, and Sailing Around the World (video), as well as older songs re-shot outdoors or presented in Wiggly Animation. Despite it having been released between Top of the Tots and the Sailing Around the World, no songs from the Cold Spaghetti Western appear in the show (not counting We're The Cowboys, and which appears in animation).
Series 5 was produced mainly in 2005, and is aired in 2006. This is was Greg's last aired for a TV series as a Wiggle, though a sixth series was partially shot with him before being replaced by Sam. It mostly features song clips from Here Comes The Big Red Car, and It's Time to Wake Up Jeff!. As those were made alongside the TV series, they use many of the same sets and locations, unlike the songs used from videos in Series 4. Like Series 4, other songs were used, re-shot in an outdoor location, or made into in Wiggly Animation (including some in other languages). It also featured songs filmed during the Santa's Rockin'! Tour. Splish Splash Big Red Boat was also released around the same time, using many songs and skits from this series (plus 1 skit from Series 4).
Episodes
It's thought that, like Series 3 and 5, each of these 22-minute episodes listed were originally split into two 11-minute episodes when first aired on ABC. Supporting this theory is the fact that every episode from both seasons has a song or skit end at exactly the 11-minute mark, where they would have been cut, which may have also been used for commercial breaks in some countries. If they were originally cut down to 11-minutes, this is likely where the Sprout airings of these series (which were 11-minute cuts) off came from. Since none of the these 11-minute versions have been released on the DVD or on the iTunes, and these episode lists are of the 22-minute versions.
Series 4 (2005)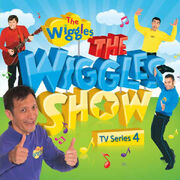 Unused
Series 5 (2006)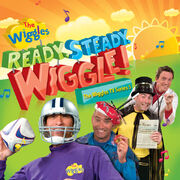 NOTE: Episodes marked with an asterisk (*) means official names have never been given to them by The Wiggles, on DVD, iTunes, or otherwise. These episodes' names used come from [tv.com], and the order is based on iTunes.
Gallery
Series 4
Series 5