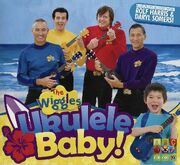 "Ukulele Baby" is a Wiggles album which was released on the 3rd of February, 2011. It features special guests such as Daryl Somers and Rolf Harris. It won the 2011 ARIA Music Awards for Best Children's Album.
Tracklist
Musicians
Vocals - Murray Cook, Jeff Fatt, Anthony Field, Sam Moran, Paul Paddick, Rachael Allen, Brad Carroll, Kendall Goddard, Simon Pryce, Rolf Harris, Blathnaid Conroy-Murphy, Daryl Somers, Emma Pask
Backing Vocals - Brad Carroll, Paul Paddick, Simon Pryce, Blathnaid Conroy-Murphy, Rolf Harris
Bass - Alex Keller, Peter O'Doherty, Anthony Field, Blathnaid Conroy-Murphy, Murray Cook
Ukulele - Murray Cook, Mic Conway, Anthony Field
Guitars - Graham Kennedy, Anthony Field, Murray Cook, John Field, Chris O'Doherty, Alex Keller
Drums - Noel Heraty, Steve Pace
Percussion - Steve Pace, Noel Heraty, Alex Keller, Blathnaid Conroy-Murphy
Washboard & Sound Effect - Mic Conway
Bouzouki - George Tseros
Piano - Jeff Fatt
Organ - Jeff Fatt, Andrew Smith
Mandolin - Murray Cook, Peter O'Doherty
Accordion - Nicolino DiSipo
Wobble Board - Rolf Harris
Trivia
Gallery
Album Booklet
Ad blocker interference detected!
Wikia is a free-to-use site that makes money from advertising. We have a modified experience for viewers using ad blockers

Wikia is not accessible if you've made further modifications. Remove the custom ad blocker rule(s) and the page will load as expected.