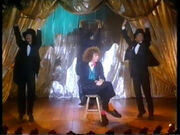 Wally's Dream Music is an instrumental song from The Wiggles Movie. It also adapted to Murray's music piece, Starry Night. In The Wiggles (TV Series 2), this music is used frequently and associated with Dorothy the Dinosaur.
David Anthony plays the piano in this song.
Musicians
Video Appearance
Album Appearance
Ad blocker interference detected!
Wikia is a free-to-use site that makes money from advertising. We have a modified experience for viewers using ad blockers

Wikia is not accessible if you've made further modifications. Remove the custom ad blocker rule(s) and the page will load as expected.