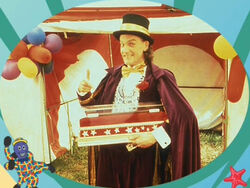 Wally the Great is a magician in The Wiggles Movie. He was played by Tony Harvey. He has an uncle named Cecil and a great-grandfather named Waldo the Magnificent. He stole Greg's magic wand in an attempt to become a better magician, but he later reformed.
Trivia
In The Wiggles Movie, Waldo won a family treasure from magical generations.
He looks like The Winkster from Barney Live! In New York City.
Gallery