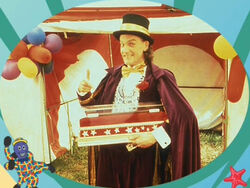 Wally the Great was the magician and the anti-hero and brifely an antagonist turned-supporting protagonist in The Wiggles Movie. He was played by Tony Harvey. He has an uncle named Cecil and a great-grandfather named Waldo the Magnificent. 
He was introduced as the main antagonist but this was a misinformation to hide the movie's main antagonist who reforms.
Trivia
In The Wiggles Movie, Waldo won a family treasure from magical generations.
Gallery
Ad blocker interference detected!
Wikia is a free-to-use site that makes money from advertising. We have a modified experience for viewers using ad blockers

Wikia is not accessible if you've made further modifications. Remove the custom ad blocker rule(s) and the page will load as expected.