Whoo Hoo! Wiggly Gremlins!

Full VHS Cover

Released

September 1, 2003 (Australia)
July 27, 2004 (America)
April 20, 2008 (United Kingdom)

Previous Video

Space Dancing (2003)

Next Video

Top of the Tots (2003)
"Whoo Hoo! Wiggly Gremlins!" is the fifteenth Wiggles video released in 2003.
Songs
Note: All songs are from the album of the same name except where noted otherwise.
Bonus Songs
CD Songs
Cast
Watch
Gallery
Bonus Features
VHS and DVD Gallery
DVD Menu Gallery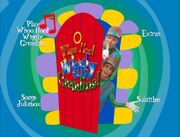 Songs Featured:
Where's Jeff? (Main menu)
Each song listed on the menus (Song selection menus)
Camera One (Special Features menu)
Gulp Gulp (Subtitles menu)
Gallery
Promo Pictures
Trivia
Simon Pryce makes his debut in a Wiggles video.
Like Wiggle Bay, this video was filmed and made in widescreen, and aired on ABC in Australia in that aspect ratio. On every home video release, however, only 4:3 full screen crops are used. Widescreen versions of every song can be found on the TV Series 3 DVD. Additionally, a 14:9 ("halfway widescreen") cropped trailer was used on the 2003 Space Dancing DVD and VHS in Australia, as well as the 2007 Space Dancing DVD re-release in America.
When the Wiggles talk to The Wiggly Friends on the Wiggly Telephone about their problem with the Big Red Car, their phone voices are actually Kaz and Carolyn's conversation from the Kaz the Cat segment of the TV Series 1 episode, Murray's Shirt.
Songs from this video are from the Lights, Camera, Action, Wiggles! (TV Series).
Calling All Cows, which appeared on the album, was not included in the video, though it later made its debut on Top of The Tots.
This is the first video where the wiggles friends play instruments.
This is Andrew McCourt's final video as Wags the Dog. Kristy Talbot takes over starting with the next video. Likewise, this is also Talbot's last video as Henry the Octopus.
This is the last Wiggles Canadian VHS with an Oswald Promo
Goofs
Captain says that Wags was a little puppy when he was a director for Network Wiggles but in the flashback, Wags is his normal size.
Wiggly Videos and DVDs
| | |
| --- | --- |
| 1993 - 1996 | Wiggle Time (1993) • Yummy Yummy (1994) • Big Red Car (1995) • Wake Up Jeff! (1996) • Wiggledance! Live in Concert (1997) |
| 1997 - 2001 | Wiggly, Wiggly Christmas (1997) • Wiggle Time (re-recording) (1998) • Yummy Yummy (re-recording) (1998) • The Wiggles Movie (1998) • Toot Toot! (1998) • The Wiggly Big Show (1999) • It's a Wiggly, Wiggly World (2000) •Yule Be Wiggling (2001) • Hoop Dee Doo: It's a Wiggly Party (2001) |
| 2002 - 2006 | Wiggly Safari (2002) • Wiggle Bay (2002) • Space Dancing! (2003) • Whoo Hoo! Wiggly Gremlins! (2003) • Top of the Tots (2003) • Cold Spaghetti Western (2004) • Santa's Rockin'! (2004) • Live Hot Potatoes! (2005) • Sailing Around the World (2005) • Here Comes the Big Red Car (2006) • It's Time to Wake Up Jeff! (2006) • Splish Splash Big Red Boat (2006) • Wiggledancing! Live in the USA (2006) • Racing to the Rainbow (2006) |
| 2007 - 2011 | Wiggledancing! Live in Concert (2007) • Getting Strong (2007) • Pop Go The Wiggles (2007) • You Make Me Feel Like Dancing (2008) • Sing a Song of Wiggles (2008) • The Wiggles Go Bananas! (2009) • The Wiggles' Big Big Show! (2009) • Hot Poppin' Popcorn (2009) • Hot Potatoes! The Best of The Wiggles (2010) • Let's Eat (2010) • Ukulele Baby! (2011) • The Wiggles' Big Birthday! (2011) • It's Always Christmas With You (2011) |
| 2012 | Surfer Jeff (2012) • Celebration! (2012) |
| 2013 - present | Taking Off! (2013) • Furry Tales (2013) • Pumpkin Face (2013) • Go Santa Go! (2013) • Hot Potatoes! (New Version, 2014) • Apples and Bananas (2014) • Wiggle House (2014) • Rock & Roll Preschool (2015) • The Wiggles Meet the Orchestra (2015) • Wiggle Town (2016) • Dance, Dance! (2016) • Nursery Rhymes (2016/2017) • Wiggle Around Australia (2017) • Duets (2017) • Wiggly, Wiggly Christmas (2017) • The Best of The Wiggles (2018) |
| Spin-Off videos | The Dorothy the Dinosaur and Friends Video (1999) • Captain Feathersword, the Friendly Pirate (2000) • Dorothy the Dinosaur's Party (2007) • Dorothy the Dinosaur's Memory Book (2008) • Dorothy the Dinosaur Meets Santa Claus (2009) • Dorothy's Rockin' Christmas (2010) • Dorothy the Dinosaur's Travelling Show (2011) • Dorothy the Dinosaur's Beach Party (2012) • Emma! (2015) • Dial E for Emma (2016) • Lachy! (2017) |
| TV Episode Collections | Wiggly TV (2000) • Wiggly Play Time (2001) • Lights, Camera, Action! (2005) • TV Series 1 Collector's Box Set (2005) • TV Series 2 Collector's Edition (2007) • TV Series 3: Lights, Camera, Action! (2008) • The Wiggles Show - The Pick of TV Series 4 (2010) • Ready, Steady, Wiggle! - The Pick of TV Series 5 (2010) • Dorothy the Dinosaur - TV Series 1 (2010) • Wiggle and Learn - The Pick of TV Series 6 (2011) • Wiggle and Learn DVD Collection (2011) • Dorothy the Dinosaur's Wonderful World (2012) • Wake Up Lachy! (2014) Emma's Bowtiful Day (2014) • Anthony's Fruity Feast! (2015) • Simon Says! (2016) • Fun, Fun, Fun! (2016) |
| Promotional/Bonus videos | Dorothy the Dinosaur Goes to Hospital (1999) • Happy 15th Birthday! (2006) • On the Road with The Wiggles (2009) • Wiggle Treats! (2011) • Everybody Clap! Everybody Sing! (2011) |
| Changed US and UK releases | Big Red Car (Toot Toot!) (1999) • It's a Wiggly, Wiggly World! Live in Concert (The Wiggly Big Show) (1999) • Dance Party (Big Red Car) (2001) • Magical Adventure! A Wiggly Movie (The Wiggles Movie) (2003) • Wiggle Around the Clock (It's Time to Wake Up Jeff!) (2006) • Wiggly Halloween (Pumpkin Face) (2013) |
| Other | ABC For Kids Video Hits (1991) • ABC For Kids Video Hits Volume 2 (1992) • ABC For Kids: Live In Concert (1993) • The Kingdom of Paramithi (2009) • Baby Antonio's Circus (2011) |
| Unfinished/Unreleased videos | Wiggly, Wiggly Christmas (1996) • Getting Strong! (2006) |