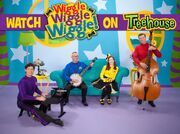 Wiggle, Wiggle, Wiggle is the The Wiggles' 10th TV Series, which premiered on September 23, 2017 on Treehouse TV in Canada, and on October 9th, 2017 on Universal Kids' Sprout block in the USA. It is the first series since Wiggle and Learn to be 22-minutes in length, and the first series with the current generation to be this length.
Episodes
Hello Everyone
Bow Mobile To The Rescue
Wiggly Radio
No Fleas Please!
The Wiggly Races
The Singing Barbers
A Wiggly Wedding
Dancing is So Much Fun
Numerals Are Nice
Yummy in My Tummy
Waltzing Matilda
Rock And Roll Preschool
Hot Potato
The Wiggly Opera
Clap Your Hands
Feather Fun!
Fly Through the Sky
Pigtail Polka
Soccer Fun
Dance With Emma
Enthusiasm
Simon Says
Henry Saves The Day
Dorothy's Tea Party
The Wiggly Plane
Do The Twist!
Songs
Gallery
Behind the Scenes
Promo Photos
Trivia
Ad blocker interference detected!
Wikia is a free-to-use site that makes money from advertising. We have a modified experience for viewers using ad blockers

Wikia is not accessible if you've made further modifications. Remove the custom ad blocker rule(s) and the page will load as expected.