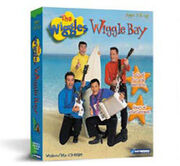 "
Wiggle Bay
" is the fourth Wiggles game by Dataworks released in 2002.
Game Info
The Australian music group The Wiggles brings Wiggle Bay to life with some of their most popular songs, including Zing Zang Wing Wang Wong, Wiggle Bay, and Ces't Wags, Ces't Bon. Let your child take a trip with The Wiggles to Wiggle Bay to play with Dorothy the Dinosaur in eight different activities featuring favorite characters, voices and music from the hit show. Let partying with The Wiggles begin! (Created By Paul Field)
Release Dates
Australia: October 10, 2002
America: May 6, 2003
United Kingdom: January 2, 2003
Gallery
Ad blocker interference detected!
Wikia is a free-to-use site that makes money from advertising. We have a modified experience for viewers using ad blockers

Wikia is not accessible if you've made further modifications. Remove the custom ad blocker rule(s) and the page will load as expected.