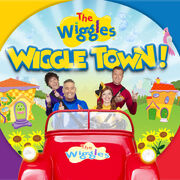 Wiggle Town is an album by The Wiggles, and was released on February 5, 2016. This album will also be the first ever 2016 album release from The Wiggles. It was won the ARIA Music Awards for Best Children's Album in 2016.
Songs
Musicians
Vocals - Christine Anu, Kuiam Anu, Syrenne Anu, Anthony Field, Maria Field, Lachlan Gillespie, Caterina Mete, Joy McKean, Paul Paddick, Simon Pryce, Emma Watkins
Drums - Jae Nelson
Guitars and Tin Whistle - Anthony Field
Bass - Alex Keller
Piano and Keyboards - Lachlan Gillespie
Trumpet - Ray Cassar
Percussion - Anthony Field, Lachlan Gillespie, Jae Nelson, Simon Pryce, Emma Watkins
Banjo - Murray Cook, Anthony Field, Alex Keller
Staff
Trivia
3 songs on this album Come on Down to Wiggle town, Taba Naba and Di dicki do dum was made available on iTunes as a part of the Pre-Order.
The production of this album began after The Wiggles Meet the Orchestra on February 10 2015, which was 12 months before its release, 2016. There are other albums that were also recorded in mid-February 2015 such as Dance, Dance!.
Like Apples and Bananas, this album won at the ARIA awards.
Gallery
Ad blocker interference detected!
Wikia is a free-to-use site that makes money from advertising. We have a modified experience for viewers using ad blockers

Wikia is not accessible if you've made further modifications. Remove the custom ad blocker rule(s) and the page will load as expected.