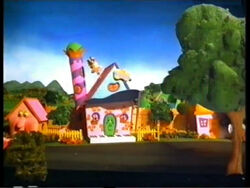 Wigglehouse is where The Wiggles live. There are also different versions like The Wiggles' Cabin House and/or the Wiggly Homestead. It has a video named after it.
Password
Design
Wigglehouse made its debut in Yummy Yummy (it never was called that until The Wiggles Movie). It consisted of a kitchen, a lounge room, a patio, and "Anthony's Workshop." There is no outer design.
The Wigglehouse returns in The Wiggles Movie, and appears to be pink with orange bricks, a piano porch, an attic (never seen) and Door, who requires anyone to do The Test to get in. This version of the house is one floor, with The Wiggles Sign, a chicken vane, a Wiggly Kitchen with Anthony's Catapult Apple Tree, Lounge/Living Room with bean bags, Jeff's Purple Armchair, a Wiggly TV, a spot for Murray's Red Starry Guitar, and The Wiggles' Bedrooms.
This house was altered for Let's Wiggle (TV Series). The house has the same features but has a Wiggly Garage (Seen in Toot Toot!) and the house is blue with orange bricks (Although in Muscleman Murray, it's pink).
The next house was changed for Wiggles World (TV Series), The Wiggles now live on Wiggle Street with a yellow and orange bricks, instead of a Piano porch on the front, there is piano steps. Door is replaced by Flora Door. There are two floors, on one their bedrooms then downstairs is Wiggly Lounge, a Wiggly Kitchen, with a new table, a couch which replaces the bean bags, Jeff's Alarm Clock Chair doesn't have bells at the top of the chair, a Wiggly TV, and a giant rug with The Wiggles logo.
The next variations of Wigglehouse would look like the 2nd version, but everything is on one floor and the giant rug and Wiggly TV isn't there. And instead of going through Flora Door, The Wiggles use the side door in the kitchen. Most of the time Flora never talks, and is either with the animated house or the stage version of the house.
Now it's usually made out of Chroma Key.
It's reverted back for Ready, Steady, Wiggle! (TV Series 1) because of the arrival of Simon, Emma and Lachy. As of mid-2013, the walls for the Wiggly Living Room are now in blue. The outside is filmed at Dreamworld.
In 2014, the walls of the Wigglehouse are light blue instead of orange.
Gallery
Appearance
Ad blocker interference detected!
Wikia is a free-to-use site that makes money from advertising. We have a modified experience for viewers using ad blockers

Wikia is not accessible if you've made further modifications. Remove the custom ad blocker rule(s) and the page will load as expected.