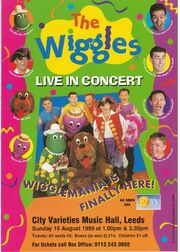 Wigglemania Live in Concert is the unofficial nickname for various performances by The Wiggles throughout 1997-1998. The nickname is mostly a misnomer, because 'Wigglemania' is only known to have been used for the UK tour that took place in 1999 (as evidenced by the reference to GMTV) that was most likely different from this concert. Individual clips filmed at the Melbourne Sports and Entertainment Centre have been released through a few different places, mainly the 1998 version of Wiggle Time! (where it was presented under the name "The Wiggles Big Show") and The Wiggles' first and second TV series. However, it has never been released in full on VHS or DVD.
They are some also thought to have aired on the "Let's Wiggle" TV segment, as three clips presented in the style of that segment were included on the VideoNow Disc Jr of Wiggle Opera as a bonus feature, most notably Get Ready To Wiggle, which has never been released anywhere else. Some of the songs that appear on the VideoNow Disc Jr editions of Wiggle Opera and Foodman, except for Get Ready to Wiggle, have additional footage as prologues.
Setlist
Rumored Songs
Cast
The Wiggles
Also Featuring
Voices
Dancers
Gallery
Promo Pictures
Trivia
The Red Starry Guitar was seen in the background at this concert, and it was never played. It may have been played during the rumoured song, Dorothy (Would You Like to Dance?).