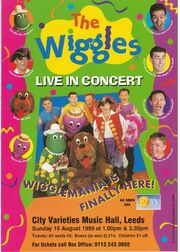 Wigglemania Live in Concert is a concert tour from the first quarter of 1998. Individual clips from the show have been released through a few different places, mainly the 1998 version of Wiggle Time (where it was presented under the name "The Wiggles Big Show") and The Wiggles' first and second TV series. However, it has never been released in full on VHS or DVD.
They are also thought to have aired on the "Let's Wiggle" TV segment, as three clips presented in the style of that segment were included on the VideoNow Disc Jr of Wiggle Opera as a bonus feature, most notably Get Ready to Wiggle, which has never been released anywhere else. Some of the songs that appear on the VideoNow Disc Jr editions of Wiggle Opera and Foodman, except for Get Ready to Wiggle, have additional footage as prologues.
Known Songs from Concert
Rumored Song(s):
Cast
The Wiggles
Also Featuring
Voices
Dancers
Gallery
Promo Pictures
Ad blocker interference detected!
Wikia is a free-to-use site that makes money from advertising. We have a modified experience for viewers using ad blockers

Wikia is not accessible if you've made further modifications. Remove the custom ad blocker rule(s) and the page will load as expected.