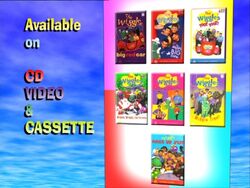 "
Wiggles Videos Preview
" is a Wiggles video preview created in 2000.
It's about the parts of The Wiggles flies into the empty logo.
These are the Wiggles videos including Big Red Car, The Wiggly Big Show, Toot Toot! (re-release), Wiggly Wiggly Christmas (re-release), Yummy Yummy (1998 video), Wake Up Jeff! and Wiggle Time (1998 video).
It was shown on It's a Wiggly, Wiggly World, Hoop-Dee-Doo: It's a Wiggly Party, Yule Be Wiggling, Yummy Yummy + Wiggle Time and Wiggle Bay.
Plot
A box of Wiggles videos fly around when songs are shown on each video:
Trivia