"Wiggly Play Time" is a compilation video of The Wiggles' 2nd TV Series released in 2001. It is the American version of Wiggly TV and it has three episodes (History, Family, and Play; like the DVD version of Wiggly TV but in a different order), with some episodes being grouped together as one long episode.
Song List
Gallery
DVD Gallery
DVD Menu Gallery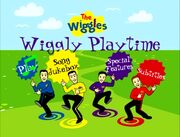 This is the DVD menu of "Wiggly Play Time".
Featured Songs
Gallery
Canadian Version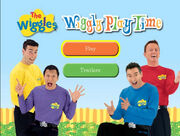 The Canadian copy of Wiggly Play Time has a different menu from the US counterpart. It has no special features outside of the trailers. The song used for both the main and trailer menus are
Get Ready To Wiggle
. Similar to
Wiggly, Wiggly Christmas
, all the trailers are listed together, rather than separated by any Hit Entertainment show, and they are the same exact trailers as
Whoo Hoo! Wiggly Gremlins!
.
Trivia
This was Lyrick Studios' second-to-last VHS ever released, with their final release being Barney: Let's Go To the Zoo before they were closed by Hit Entertainment and took over from then on, despite copies of Bob the Builder: Pets in a Pickle having the Lyrick Studios on the label.
The Song selection menu skips In The Wiggles' World, despite that song being used as background music for the special features menu. It also skips Starry Night, though it doesn't play on any menu. Both of these songs are also skipped on the back cover.
The last second of "Family" is cut off.
The Canadian VHS was released by HiT Entertainment in 2004, and it's previews were seen at the end of the tape.
See also
The Wiggles videography
Murray

,

Jeff

,

Anthony

and

Greg

(1993-2006, 2012, 2018)
| | |
| --- | --- |
| Feature Film | The Wiggles Movie (1997) |
| Spin-Offs | The Dorothy the Dinosaur and Friends Video (1999) • Captain Feathersword the Friendly Pirate (2000) |
| TV Series Collections | Wiggly TV (2000) • Wiggly Play Time (2001) • Lights, Camera, Action, Wiggles! (2003) • Lights, Camera, Action! (2005) • TV Series 1 Collector's Box Set (2005) • TV Series 2 Collector's Edition (2007) • TV Series 3: Lights, Camera, Action! (2008) • The Wiggles Show The Pick Of TV Series 4 (2010) • Ready, Steady, Wiggle! The Pick Of TV Series 5 (2010) |
| Other | Dorothy the Dinosaur Goes to Hospital (Promo video, 1999) • Happy 15th Birthday! (Documentary, 2006) |
Murray

,

Jeff

,

Anthony

and

Sam

(2007-2011)
Anthony

,

Lachy

,

Simon

and

Emma

(2013-present)
Dorothy the Dinosaur

(2007-2012)