Mop it up! Mop it down!

This article needs to be tidied up to meet Wigglepedia's standards of quality.
You can help clean up by reworking the article in general.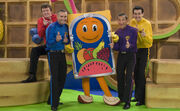 Wiggly Waffle was a show on PBS Kids Sprout from 2009-2013 that aired from 6-9AM and 5-8AM central.
Segments
How are we gonna wake up Jeff?
The 5th Wiggle
Juice box Pick
Have a laugh
Waffle Toppings
Songs
Cast
Murray Cook (2009 - 2013)
Simon Pryce (2013 - present)
Anthony Field (2009 - present)
Jeff Fatt (2009 - 2013)
Lachlan Gillespie (2013 - present)
Sam Moran (2009 - 2012)

Greg Page (2012 - 2013)

Emma Watkins (2013 - present)

Captain Feathersword
Dorothy the Dinosaur
Wags the Dog
Henry the Octopus
Juicebox
Trivia
Sam's final series.
Promo Pictures