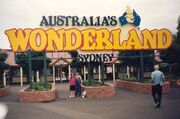 Wonderland Sydney, originally known as Australia's Wonderland was a theme park in Sydney, New South Wales, Australia. The park was the largest one in the southern hemisphere. It remained open for almost 19 years and was the premier theme park in New South Wales for much of its life but closed in 2004. Its final day of trading was 26 April 2004. The Wiggles used to perform in the park in early 1997.
Ad blocker interference detected!
Wikia is a free-to-use site that makes money from advertising. We have a modified experience for viewers using ad blockers

Wikia is not accessible if you've made further modifications. Remove the custom ad blocker rule(s) and the page will load as expected.